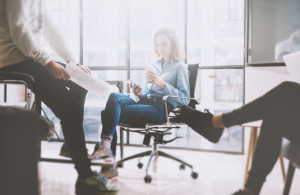 You offer premium financing as a convenience to your customers. So why aren't you benefiting from it, too? We can help you create a profit center within your insurance agency from your premium financing efforts. For three decades, we've helped insurance agencies turn premium financing into added revenue and profits, easily and efficiently. The COST Program has typically generated at least $30,000-40,000 net profit per million financed for our clients.
We know you're busy running your insurance agency. That's why we do it all — we set it up and manage the entire back office operation of your premium finance entity for you. We want you — and your customers — to be 100% satisfied with our work. We have an incredible commitment to providing the very best customer service to you and your agency, and in turn your clients. We make it easy for your customers to enroll in features such as electronic billing, online account management, 24/7 phone support, and online and phone payment options. We offer your customers high-quality customer service on your behalf.
Our structure and size allow us to work with insurance agencies on an individualized basis, offering each one flexible solutions that fit their unique market and profit goals. We continually adapt our programs and procedures to meet the needs of our clients as well as to adapt to state regulations. We also stay up to date on new technology to make our premium financing operations more efficient. Our online quoting and management system is easy to learn and easy to use. We utilize industry-leading technology vendors to provide a customizable, flexible, powerful platform for your premium finance company.
We know you may have questions about hiring a third-party organization manage a profit center for your agency. We're here to offer you peace of mind about partnering with us. We have decades of experience and a dedication to excellence that provides an incredible solution to insurance agencies, agency groups, insurance companies and general agents. Learn more about us by visiting our website: https://costfinancial.com/.
Most ways to increase your agency's profits involve a lot of hard work on your part. Our solution doesn't! Our clients can stay focused on their core business while we handle the entire backroom operation of their premium finance entity. COST does it all. Reach out to us to learn more about how we can help you with your premium financing efforts. Just give us a call: (800) 844-2678.