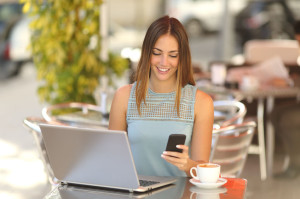 Identity theft is a fast-growing type of crime. One third of U.S. adults have been a victim, with a new case every two seconds. Here are some simple yet effective ways to help prevent someone from stealing your personal information.
Carry as little information as possible with you. Do you carry your Social Security card in your wallet? Avoid carrying your Social Security card and passport with you unless you're headed somewhere where you specifically need those two forms of identification. Don't write a lot of checks? Re-evaluate whether you should carry your checkbook everywhere you go. Think twice about carrying more than two credit cards in your wallet.
Shred documents before they end up in the trash. Keep a shredder handy to safely dispose of personal information such as credit card and bank statements and credit card receipts. Many shredders can easily fit on a desk or kitchen counter.
Limit the amount of personal information you provide. Avoid giving out personal information unless you have initiated the call or you are absolutely sure you know who you are dealing with. Be especially cautious when someone asks for your Social Security number, either in person or over the phone.
Proceed with caution when shopping online. Before submitting personal or financial information through a website, check for the locked padlock image on your browser's status bar. Look for "https://" (rather than "http://") in your browser window. This can help you determine whether you're using an authenticated website. Love to use public wi-fi? If you use an unsecured network to log into an account, someone else may be able to see what you see and what you send and possibly even log in as you. Don't use public wi-fi to access private information unless you have taken additional security measures that prevent others from seeing your online activity.
Keep close tabs on your accounts. Carefully monitor your bank and credit card statements each month to make sure all transactions are accurate. With online access, you can check your accounts as often as you wish! If you suspect a problem, contact your credit card company or bank immediately.