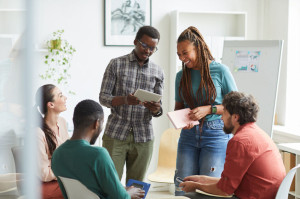 We all know that creating a healthy corporate culture is important, especially in today's employment climate. But what exactly does a healthy corporate culture mean? Let's dive a little deeper and look at how companies can cultivate a healthy workplace climate. Following are four elements we believe can help companies in their quest to attract and retain high-caliber talent.
1. Have the right people on board.
It's a simple yet underappreciated fact: People are attracted to companies with good employees, but the opposite can be true for toxic ones. One bad hire can have the potential to turn off a whole department and possibly dozens of other people, including customers. But the good thing is that any damage can be reversed, and you can come out on the other side better. If you fire the bad apple, it'll show other employees that your actions are in line with your beliefs.
2. Know that good ideas and decisions can come from any level of seniority.
As some companies grow in size and scope, there often comes a tendency to limit employee agency. Team members can feel they're perceived as no longer stakeholders and their impact on the business can feel minimized or marginalized. It becomes ingrained in the culture over time. They do their work and go home, without any feeling that their work matters and contributes to a larger goal.
On the other hand, when you open up the channels your employees can feel more engaged and even encouraged to offer solutions to longstanding problems. Companies succeed when employees at all levels feel like their input is heard and their insights from the trenches are truly given consideration.
3. Realize the whole is greater than the sum of its parts.
How do you talk about employees? Is it an "us vs. them" situation? How do you frame job descriptions? Word choice and tone matter. Companies with robust cultures refer to their talent as "team members." That phrase denotes that people are much more than job titles and acknowledges the human element. Teams work best when everyone is an active participant and feeding off each other's energy and no one is perceived as superior to another in terms of value-added.
4. Create a culture of appreciation.
From the occasional catered-in lunch to on-site amenities like gyms, employers can do a lot in the way of showing they're grateful for their most important asset. Keep in mind, though, that today employees want more than food and other amenities. They want to feel valued and appreciated. When workers feel like you care about them as a whole person, they're more likely to remain loyal. And that will make a huge difference in your agency's relationship with its clients.